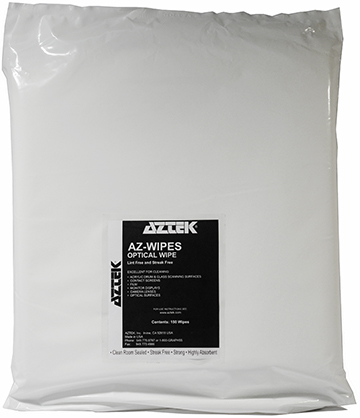 Optical Surface Cleaning Wipe
Wet or dry cleaning wipe
Unlike older scanner wipes the AZ-Wipes are very absorbent and are intended to both wipe and lift fluids or debris from an optical surface.
Clean room sealed, AZ-Wipes can be used for sensitive surfaces such as coated glass found in cameras as well scanners, acrylic drums, tablet computers and plastics. Not only are they more capable but a better value and cost less per wiper.
Key advantages
• Non treated and contains neither light oil or alcohols
• Multipurpose
• Clean Room Packed, Lint Free and Disposable
• Strong & Absorbent
• Use either dry or with Lens, Glass, Drum or Film Cleaners
• Less expensive (contains 50% more, 150 sheets and larger in size, 12" X 12")
AZ-Wipes are for all Optical Surfaces
Camera lens, flatbed scanner glass, acrylic scanner drum, Wide Format scanner surface.