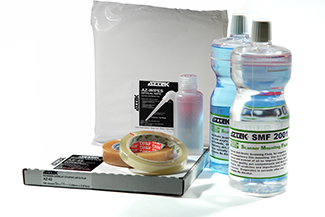 Drum Scanner
Take advantage of Wet Mounting with your Drum Scanner
Many scanner users have come to rely and use KAMI for use on P.M. T. or C.C.D. Film Scanners. The AZTEK wet mounting kit for Drum Scanners allows for the use with Drum scanners.
Key advantage of Wet Mounting with
• Cuts down on refracting light through film
• Keeps film flat and focus at an optimum.
• Fills scratches and film imperfections.
• Cleans film and evaporates after use.
• Removes newton rings.
Resolution Target Scans performed on Epson Perfection V750 Pro
Without KAMI and With KAMI .