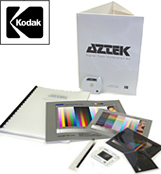 Tools to Calibrate, Profile and Check the Color Accuracy of All Aspects of Your Workflow.
AZTEK, together with Kodak, has created a product that simplifies the process of profiling and heightens the accuracy of your ICC workflow. The Digital Color Calibration Kit includes a unique set of targets, designed to meet the needs of the professional who is looking to fine-tune their workflow process. No matter if you are using film, or shooting direct to digital, this kit will assist you in increasing the accuracy from input to output
Versatility
Targets for Generating Profiles
Versatility is key with respect to input and output devices and this kit delivers. The Digital Color Calibration Kit includes various sized IT8 targets. The included IT8 target formats are on 35mm, 6X7cm, 120, 4X5 in film and on 5X7 reflective photo paper.
Accuracy
Targets for Validating Workflow
Included with the kit is an enhanced ST-34 Capture Density Strip, the AZTEK Color Reference Target and the new Color Accuracy Target. With these tools, you can measure the accuracy of your input and output devices in a multitude of ways. You will be able to fine-tune generated profiles, and get direct feedback on your capture device's ability to capture density information, thus enabling you to calibrate, profile and check the color accuracy of your workflow.
Digital Color Calibration Kit
The Kit Includes:
Enhanced Scanner Density Calibration ST-34
Calibrate and Create Balanced Scans. Test your scanner's ability to see true density, D-Max.
AZTEK Color Reference Output Target
Validate your Workflow for Accuracy. Test your Printers Output Accuracy as well visually inspect and compare monitors. Supplied in file format.
AZTEK Color ICC Input Target
35mm, 6X7cm, 120*, 4X5 film with infinite density patch and 5X7 photo paper. Create Input Profiles from All Digital Sources. * Denotes targets are manufactured to IT8/Q60 Standard
AZTEK Capture Accuracy Target CAT 06
Test Capture Accuracy, Exposures, Lighting and Camera Settings. Supplied in print format.
AZTEK Digital Color Calibration CD & Instructions
Includes full instructions, IT8 batch information for creating profiles and the AZTEK Output Target.
How to Purchase
The AZTEK Digital Color Calibration Kit can be purchased directly from AZTEK or by most professional imaging distribution channels.
AZTEK Digital Calibration Kit
AZ-DCK527-06 $599.00