DPL 8.0 Pro for Windows 64bit/32bit

Version 8 of DPL was created to bring new enhanced functionality as well extend the life of Howtek and Aztek scanning devices; by allowing the peripherals to be utilized with modern computer hardware utilizing 32bit or 64bit versions of Windows. As well add some functionality and features to enhance the user and scanning experience. In addition to adding 64bit support DPL is better optimized and require less system resources.
Product Description
If you are struggling with achieving good results, it is not your scanner but likely your scanning software.
Patented features and years of development come together at a click of your finger. Digital PhotoLab brings forward support for AZTEK and Howtek drum scanners to run on a modern day Windows Platforms such as Windows 7, 8 and 10 . Unlike any other scanning solution DPL knows film types and as you select media selections the scanning software directly optimizes the hardware for sampling. By selecting different media types within Digital PhotoLab you are physically changing the parameters of the analog digital converter within the scanner. This actually allows you to remap the dynamic range of the scanner to the film you are scanning.
This technique results in allowing you to get a full bit depth return from the scanner of the film you are scanning. When scanning negative film, as the negative film information is very compressed this becomes even more important. Further enhance your scanning experience by utilizing DPL's auto features to automatically correct for exposure balance. Unattended scanning features for batch scanning are standard with all versions of Digital PhotoLab. Fully utilize your scanner's capabilities, scan in 48bit mode and write files sizes beyond 4gigabytes.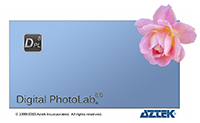 Digital PhotoLab 8 comes with all the tools previously bundled with the Professional versions, which provides the full level of control over your scanner. DPL 8 provides the ability to create your own media characterization from scratch and customization of DPL's auto analysis features. When new media characterizations are generated they appear on the media drop down menu of the software in a User Defined area. You simply just pick your new media characterization on the crop areas and then scan. The resulting scan will now be remapped to your parameters via your scanner's hardware.

Ways to Purchase
Introductory Upgrade Offer $895
Digital PhotoLab owners of version 7.5 or newer Pro or Standard qualify for upgrade pricing Offer. (Upgrade provide direct via Web)
Introductory Full Version Purchase $1,295
No requirements for ownership of applicable upgrade. (License shipped with Software)
Options
Scanner Support License Options:
Group 1:Howtek HR 8000, Aztek DPL 8000, Aztek Premier & Aztek Plateau
Group 2:Howtek Legacy, DX 2500 Flatbed, 2500 Flatbed, D4000 Drum, ScanMaster 4500 & ScanMazter6500/ScanMaster7500 Grand
(Need further scanner support options or combinations, email us for quote)
Hardware Options on purchase
+169.95 SCSI Board & Cable DPL 8.0 Bundle 64bit Support.
(This option provides a SCSI PCI board with 64&32 bit driver support for Windows along with an Aztek 6' triple shielded SCSI cable.)
+238 SCSI Board, Cable & PCIe adapter DPL 8.0 Bundle 64bit Support
(This option provides a SCSI PCI board with 64&32 bit driver support, PCI to PCIe adapter and an Aztek 6' triple shielded SCSI cable.)
+ 676 USB-SCSI Adapter & Extent ion DPL 8.0 Bundle 64bit Support
(This option provides a USB SCSI emulator with 64&32 bit driver support for Windows. Along with an USB root hub extender to extend the overall connection length over 18'.)
Mac Friendly AZTEK ScanServers™
Are not comfortable navigating the wonderful world of PCs, let Aztek help. We offer custom tailored workstations that we call ScanServers that we source and assemble here at Aztek. These systems are complete, reliable and ready to go with all the necessary hardware and software preinstalled. Please inquire with a sale associate about the particulars and your needs.