TouchScan is a totally new approach to wide format document scanning and printing. Unlike Traditional solutions, TouchScan requires very little imaging knowledge to get great results! This can be attributed to a easy-to-use software interface combined with a robust color engine based on Aztek's patented technology. What is also great about TouchScan is that it is expandable to meet your image reproduction needs.
A New Source of Revenue for your Business
Adding TouchScan to your business opens new possibilities for your imaging capabilities. Giving you the ability to digitize printed materials such as canvas, water color, photographic materials, original prints, and gloss inkjet materials. Making TouchScan able to service the Fine Art, Photographic, CAD, Education and environments where speed and quality reproduction is a necessity.
Save Money & Time
TouchScan's ease of use allows for your scans to be done in-house without extensive training or expensive out-sourcing. TouchScan accomplishes this through its intuitive software interface which leads you through the process from start to finish. A built in customizable Wizard allows any user to start being productive within minutes. Additionally, advanced features available in an advanced mode allow you to fine tune the settings on your project through a complete image and project tool suite during any point of the scan process.
Help Assistant
In the case that you need direction with a feature within the software, TouchScan includes an on screen video assistant. The TouchScan assist is available at all times of operation of the software. Simply select the topic you wish to learn more about and the assistant will play the corresponding video including audio to direct you.
Automated Features and File Support
TouchScan allows you to output into various file formats including PDF, Tiff and JPEG. TouchScan includes image enhancement tools such as image de skew as well image filters that can be applied automatically to insure optimum results. With optional features such as usage tracking of either scanning or printing that allows for exportability into either into an Excel File or Quick Print Sheet Report. This feature enables users and accounts to be tracked on equipment where fees may vary from job to job.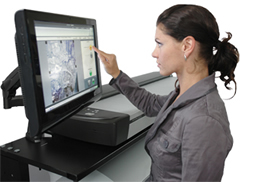 Configure to your Production Needs
Weather you currently have the need for scan to print or at some later point need copying capability. TouchScan can be purchased with varying capability from a standalone software to drive your existing scanners, or as a complete pre-configured system to run straight from the box.
Configurable All in One Approach
The all in one option include: Scanner available in multiple size varying from 24", 36", 42", 44" and 54" to meet the needs of your document size requirement, Touch Panel System / Touch-Scan Software, and an Integrated Stand with an Epson 44" Printer. This all in one system is pre-configured to run straight from the box. The Touch Scan panel is a fully functional Windows PC with an integrated pressure sensitive screen. The screen is pressure sensitive to the touch of a finger, stylus, or eraser. With its combined Wide Format Scanner, Printer and system package, the panel can be combined in an existing wired LAN or Wi-Fi Network or setup as a standalone system.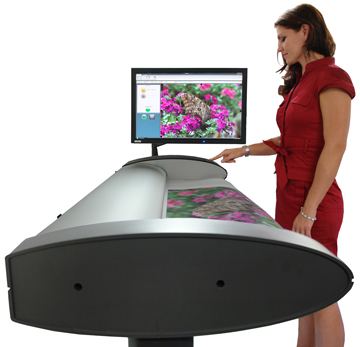 Advantages at a glance
• No Need for Highly Trained Operators (Ease of Use)
• Self Sufficiency is Cost Effective
(No more outsourcing)
• Integrated Products Use Less Space (Smaller foot print due to a all in one approach)
• Effective (Professional quality and Fast)
• Increase Revenue Stream
• Lower Starting Costs
• Quickly save and recall scanning/printing session selections - time saving