Professional Large Format Photo Reprographics digital demands superior input, and the AZTEK® Digital PhotoLab® 2054 delivers it! There isn't much the professional Wide Format Color 54 inch scanner can not accommodate. The DPL 2054Wide Format scanner's unique media calibration control system is capable of automatically large Format Scanning photos, color posters, color architectural sketches, maps, drawings, and fine art professional media.
The DPL2054 can scan up to 0.6-inch (15mm) thick originals such as foam-boards, gator boards, canvas art frames, and etc. and meets all large format scanning needs in photo-realistic color. Combining a Digital PhotoLab scanner with a large format ink-jet plotter will result in the perfect large format image reprographics solution. The Wide Format Scanner under the control of the Digital PhotoLab Professional software will directly scan to any connected compatible output device including: large format inkjet printers (IRIS, Epson, Roland, Mimaki, HP, etc.), film recorders and even photo printers (Lambda, CSI, Sienna, Fuji Frontier, etc.).
This is not just another really big scanner! Now for absolutely the first time both an ultra Wide format scanner and the necessary requisite professional color and optical quality control technology have been combined to make the AZTEK Digital PhotoLab Wide Format 54" scanner. That means you can scan any original print size media at any resolution up to the maximum: width of the scanner or computer addressable 96 GB file sizes. With variable resolution in one dpi increments you can for instance scan 2400 dpi over the entire scanner area. Both superior resolution and Aztek 48-bit media density calibrated color features for: scan-to-file, scan-to print, or simultaneous scan-to-file-&-print.
The Digital PhotoLab incorporates all of the wide format scanner's digital camera hardware with advanced point-of-origin color capture for low noise and extended dynamic range. This versatile scanner is the right solution for easy-to-use high-speed and high volume professional scanning
Digital PhotoLab® Software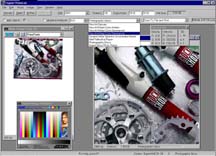 Both easy to use features and patent pending unique professional performance now brings wide format scanners to a new level not previously possible. • It operates more than two to ten times faster with data transfers up to 10 MBper second • Includes over 50% more features than others • Provides "Infinite Undos" • Scans to multiple formats • Allows concurrent scanning, Color correcting, and other simultaneous applications even PhotoShop activity • Unlike other software, the Digital PhotoLab® is a "Pick and Click" one-step scanning workflow system • Unattended Batch Scanning • Fine Art, Photo, Drawing, etc. Media Customizable Calibrations • Online Densitometer and CIE Lab meter from scan • On Screen Visible Color Targeting • Scans to multiple formats • Color Purification Artificial Intelligence • Screen display previews are in virtual memory, high resolution and real-time color engine corrected. So what you see scann ing, finally is really what you get!
One Scanning Workflow
The same interface and powerful density color and optical accurate easy-to-use features are available to support both the wide format reflective scanner and the Aztek Digital PhotoLab professional film scanner systems. Digital PhotoLab® lets you take control of the photo image workflow, facilitating faithful image scanning direct to print.
Go beyond ICC profiling
Color accurate features are provided for pre-calibrated media scanning to density accurate normalized color space with specular white and 18% density gray control; displayed interactive on-line visible density color targeted control during scanning; and yes, of course, ICC profiled capture. Also available is direct support for Aztek pre-calibrated photo density accurate monitor targeting in addition to being offered bundled with the AZTEK DPL 2054 model scanner.